A start-up that originated from a UC Riverside professor's research is among the companies cited in a recent scientific journal article in Nature Nanotechnology as being at the forefront of developing nanoneedle technology. 
The authors call Basilard BioTech one of the "major players in the evolution of a viable nanoneedle technology for sensing and clinical use."
The technology was developed by Masaru Rao, an associate professor of mechanical engineering in the Marlan and Rosemary Bourns College of Engineering at UCR, and licensed to Basilard BioTech, which has further matured it.
The technology, branded Celletto, is a disruptive new solution for engineering ex vivo cell and gene therapies for cancer specifically, as well as genetic disorders and degenerative diseases more broadly.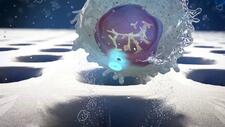 Rao, and Basilard CEO Brynley Lee said the article provides tremendous exposure for the technology among top academics and biotechnology professionals in the field.
"This is a rarified space, and we are doing well," Rao said.
The journal article describes commercial interest in nanoneedles as booming due to their capacity to gain access to many cell types with minimal disruption for efficient delivery of advanced therapeutics.  
The UCR Office of Technology Partnerships first matched Rao and Lee through its CEO-in-Residence program, and subsequently helped sow the seeds for Basilard's successful commercial launch in 2019 through its UCR Entrepreneurial Proof of Concept and Innovation Center, or EPIC, incubation programs. 
"This is a good example of the high caliber technologies coming out of UC Riverside.  We congratulate the company in its advances and external recognition as a leader in the field," said Rosibel Ochoa, associate vice chancellor of technology partnerships at UCR.