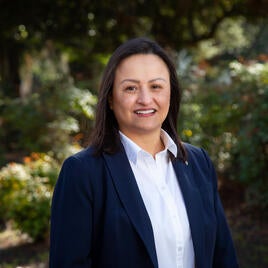 Francis Reyes
Blackstone LaunchPad
Entrepreneur-in-Residence
Contact Information
EPIC
Entrepreneurship and Innovation
951-827-6454
Dr. Francisca Reyes was introduced to entrepreneurship when she was a graduate student. Since then, her focus is on Mexican American female entrepreneurs, rural entrepreneurship, technology transfer and entrepreneurship-led economic development.
She has provided technical assistance to entrepreneurs and reviewed the novelty of technologies prior to commercialization at New Mexico State University's Arrowhead Center and taught Entrepreneurship, Business and Economics at Western New Mexico University. Most recently, she worked with the United Nations Development Program Mexico creating strategies to attract investment and incorporate small businesses in global value chains.
Francisca holds a Doctorate in Economic Development from New Mexico State University, an MBA and MPA from University of Texas at El Paso and a BS in Industrial Engineering from Institute of Technology in Durango, Mexico.
She joined the University of California - Riverside's Office of Technology Partnerships on December 1, 2021, as the Blackstone LaunchPad and Entrepreneurial Education Lead EIR and serves as campus director for the Blackstone LaunchPad.