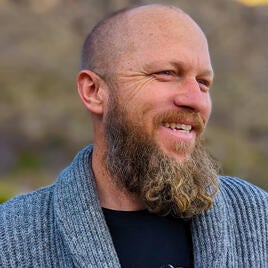 Kevin Meredith
Entrepreneur-in-Residence
Kevin Meredith is a co-founder at The WESEE Collective; a united set of endeavors that are committed to find, foster, and enhance the meaning and outcomes of value around the world by simultaneously advancing Wellness, Education, Society, Ethics and Environment.
Kevin directly leads two subsidiaries: 4th Sector Innovations and Prospour. Tapping into a network of global leaders and clients, these businesses enhance local efforts committed to making the power of innovation and entrepreneurship more accessible to those that can benefit from them the most. This work is defined by helping people, organizations, and communities they support better understand, build capability, and deliver value using a comprehensive systems approach in a resource savvy way.
Kevin's greatest learning and experience with innovation was forged while working at one of the world's largest aerospace companies as an enterprise leader of multiple innovation teams. In this role, Kevin conceived, developed, and scaled a small pilot program into a company-wide network of connected employees and businesses that spanned the globe. He also united a coalition of diverse innovation efforts into a single enterprise network to augment traditional innovation mechanisms within the company. His perspectives on value creation were further enhanced when Kevin spent two years in the corporate venturing group, where he was responsible for early-stage pipeline development and acceleration.
In his nearly 20 years of professional service Kevin has supported amazing technologies that push the limits of possibility while accumulating a diverse set of experiences in program management, engineering, supplier management, process improvement (certificates in both six sigma and lean), supplier-quality, human factors, and auditing.
Kevin received his engineering degrees (BS/MS) from the Industrial and Systems Engineering department at the Rochester Institute of Technology and a business degree (MBA in Entrepreneurship) as well as a certificate in Socially, Environmentally, and Ethically Responsible (SEER) Business Strategy from Pepperdine University.