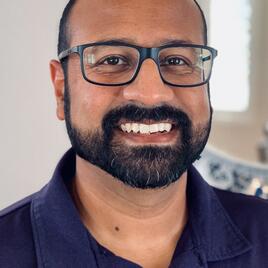 Tariq Warsi
Entrepreneur-in-Residence
Dr. Tariq Warsi has over 20 years of experience as a biotechnology operations leader, venture partner, scientific advisor, and entrepreneur.
Tariq currently serves as the Vice President of Technical Operations at Novome Biotechnologies, delivering to process development, manufacturing, quality control, and clinical supply of drug product. Tariq is also a Venture Partner at Awaken Capital, where he serves as an advisor and has led technical evaluations of multi-million-dollar investments across numerous life science sectors. He also serves as a scientific advisor at Hyasynth Bio, Basilard BioTech, and Focus Academy. Previously he held a number of scientific roles in industry and academia, including a tenure in process development and operations at Amgen, senior scientist responsibilities at Aurora Algae, and a lead scientist at Stanford University.
Tariq completed a Postdoctoral Fellowship at Harvard Medical School and earned a PhD in cell, molecular, and developmental biology and a bachelor's degree in biological sciences from the University of California, Riverside.