UCR Program Exposes Inland Empire High School Students to Clean Tech Entrepreneurship Career Pathway
120 high school students will receive training on technology entrepreneurship applied to sustainable agriculture and sustainable transportation
Technology entrepreneurship is usually associated with innovation at research universities and technology centers in the coastal counties of California. It is widely reported that there is little participation from minorities and women, or from the Inland region.
High growth, successful tech-based startups typically create a large proportion of jobs and can be linked to wealth creation for the founders.
Through a grant from the Irvine Foundation and the University of California Riverside (UCR) Office of Technology Partnerships, UCR is providing access to cutting-edge
technology entrepreneurship pathways to individuals in the Inland Empire community who normally are not engaged in these ventures.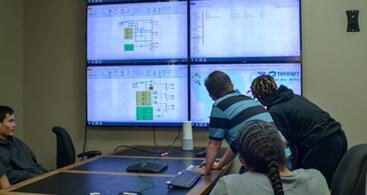 This effort is a component of the OASIS regional innovation hub*.  The Opportunity to Advance Sustainability, Innovation and Social Inclusion (OASIS) is a public-private economic development initiative to create sustainability-focused technology startups that, combined with workforce development strategies, have the potential to create quality jobs accessible to all residents of the Inland Empire region of California.  The OASIS program has a three phased approach to talent development: 1. Exposure to opportunity at the high school level, 2. Skills acquisition at post high school level, and 3. Application of learning through startup launch.
The first element, the exposure to opportunity at the high school level, encompasses six (6) workshops on technology entrepreneurship applied to sustainable agriculture technology and sustainable transportation and community impacts.  The first workshop with senior and junior high school students was held at the UCR campus and at the UCR Center for Environmental Research and Technology (CE-CERT) in the fall of 2022.  In total, the 6 workshops will reach approximately 120 high school students.
The selected topic areas, sustainable agriculture and sustainable transportation and community impacts are of interest given their significant role in the Inland Empire economy.  These are also areas  undergoing deep transformation due to technological changes (automation, big data, new molecular tools), climate change, and regulatory mandates. The workshops include hands-on technology demonstrations, technical mentorship, and entrepreneurial training. The program culminates in Pitch Day where students present their business idea to a panel of experts, hear from other entrepreneurs, network, and learn about free opportunities to further their journey, such as additional training at the post high school level, internships, and apprenticeships. The goal of the introductory series is to instill inspiration, skills, and confidence for students with no previous exposure to pursue careers in the clean tech entrepreneurial fields. "This program aims to expose high school students to the technology entrepreneurship process and help them understand that they can be agents of change in their own community.  We hope that this experience contributes to shaping their career path" said Rosibel Ochoa, associate vice chancellor technology partnerships at UCR.
The high school workshop program has been developed in collaboration with community partners such as Riverside Community College District, Inland Economic Growth and Opportunity, the Brown and Black Collective that includes Youth Action Project, Young Visionaries, Youth Leadership Academy and IE Black Grad Community Action Partnership, the Riverside Food Systems Alliance, and UCR faculty and staff.
*OASIS leverages UCR's long-standing research excellence, educational programming, and expertise of more than 200 faculty and research scientists with expertise in clean technology, climate science, air quality, sustainable freight, agriculture, engineering, health, and natural resource management. More information at www.oasis.ucr.edu