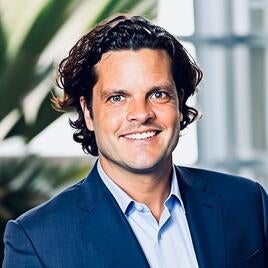 Michael Lombardo
Entrepreneur-in-Residence
Michael Lombardo is a seasoned social entrepreneur and two-time founder of highly scaled technology and services businesses. In 2017, he founded one of the largest providers of technology-based tutoring in the United States, BookNook, which has served hundreds of schools and school districts across 39 states. BookNook has received recognition for its innovation and impact on student achievement from J-PAL North America at the Massachusetts Institute of Technology and Teachers College at Columbia University.
Previously Mr. Lombardo served as the first Chief Executive Officer of the children's literacy nonprofit Reading Partners, growing it from a small regional operation in Silicon Valley to a nationally-scaled organization serving students across 14 states. He also has extensive experience in higher education administration, having held senior positions at the University of California, Berkeley.
Mr. Lombardo has served as a Social Entrepreneur in Residence at Stanford University, where he is a frequent speaker on subjects of social entrepreneurship and innovation.  He has also delivered addresses or appeared on panels for the Harvard Graduate School of Education, the World Affairs Council, Social Venture Partners International, and China-US Strategic Philanthropy at Beijing Normal University.
Mr. Lombardo is a graduate of the University of Michigan and the Executive Program for Nonprofit Leaders at the Stanford Graduate School of Business.